Fairy tail like views, that is not strange in Norway because Norway is a magnificent walking country. Besides many tracks in our surrounding valleys (we have detailed maps available) are there well-known classic's trails like  the Peer Gynt trail  (the old Pilgrims path) that starts from our valley.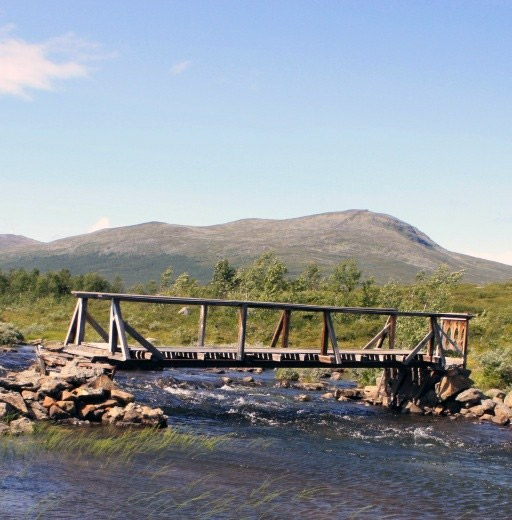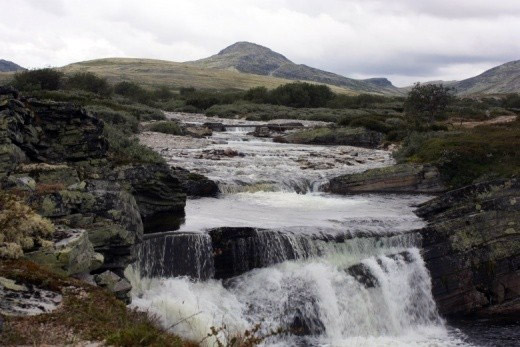 Season: the best time of the year is June till August; in May and September are the walks more pleasant in lower located areas, the walks in the mountains are beautiful but can be much colder.
Norway has a tight web of marked tracks (trails with the red T, maintained by the DNT: Den Norske Turistforening).
Outfit: good hiking shoes are necessary for every trip. Even surfing shoes can be useful for crossing streams (are warm and have a lot of grip) and watertight boats are perfect in wet grounds. Always take along warm clothing and raincoats: the better ones are made of synthetic fibers in combination with wool. As hiking equipment you must need a backpack with first aid-kid, knife, compass, maps, sunglasses, extra sweater and a cap. A telescopic walking stick is also easy for walking downhill. You can drink the water from mountain streams and lakes, but never in the surrounding of private houses or still standing water.
Walking maps: the very best maps of Norway are the topographical maps 1:50.000 from Statens Kartverk www.statkart.no . These ones show you literally all routes, tracks, roads and even houses, and has often a summer and winter site because of the accessibility in the seasons. These maps are available at our camping and all regional Tourist Offices, the maps are split up for all the different regions. You can order them also at the better bookstore in your country.
Behavior in nature : in Norway counts the all mans right : that provides that everybody can walk in nature, provided that nature will be spared. Only fields and private property around farms and houses are forbidden, but this covers only 5% of Norway.
Fishing and hunting is permitted with a license (even for tourists), but open fire is forbidden in the summer, and only allowed on bare rocks or special BBQ-places.
Wast and disposals must be taken home!
Tips for the real Hiker : there is a pocketbook with 35 (half-) daytours for walking in Norway.
Written and walked by the Germans Gorsemann en Kaiser, available at the britisch AA, or bookstore; ISBN 90-18-01644-6.
Every route is displayed with a map, distances, height profile, and the heaviness (+ up to +++), the walking time, interest sights, transit- and rest possibilities.
Organized walks: we can inform you in Skåbu about guided walks, also suitable for kids. In the summer there are many trips, including even glacier-hiking in the Jotunheimen. A well known walk is the old Pilgrims path that leads you along cultural and prehistorical places in Nord- and Sør-Fron. It starts at Hundorp and the price with transit and guide is about 350 Nok. At Venabu are starting different walking tours with guide that also visits the reindeer-traps; price about 220 Nok.